Seamless Aluminum Gutter Installation in MO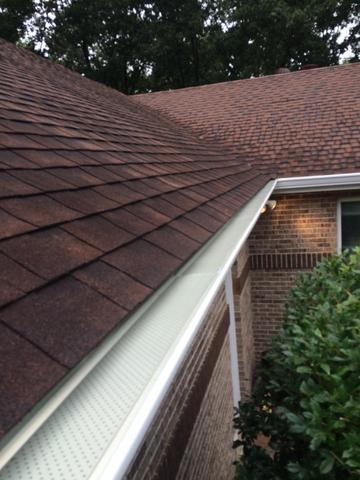 Affordable solution. While being less expensive than other types, aluminum gutters are custom-fabricated to fit your house. Different sizes, styles, and colors are available.
Low-maintenance gutters professionally installed in Greater Saint Louis
Almost every house needs gutters and downspouts. If your home does not have effective roof drainage, roof runoff will settle right next to the foundation. This substantial water will damage plants, decks, patios, and exterior siding while also eroding the soil around your foundation. Inside the house, the basement can flood.
While providing effective drainage, gutters also need to look good because of their prominent position on the exterior of the building. Many homeowners choose to replace their gutters and downspouts during a roof replacement.
Bone Dry Roofing can install seamless aluminum gutters in a variety of colors and styles to meet your needs and budget.
We expertly install seamless aluminum gutters in any length
The term "seamless" explains the major advantage of this type of gutter. This gutter system can be custom-made to any length required, eliminating the need for seams. The magic of making seamless gutters occurs inside a gutter machine. The flat aluminum sheet that enters one end of the machine comes out the opposite end formed into the finished gutter profile. The most popular profile for seamless gutters is a "K" style gutter with a curved front edge.
Get a Free Quote!
Contact us today for a free estimate of seamless aluminum gutter installation throughout the Greater Saint Louis area!
Seamless aluminum gutters installed at an excellent value
Many homeowners choose seamless aluminum gutters over other types of gutters for several reasons. Consider the following advantages:
Durable, factory-applied finish. Aluminum gutters come with a factory-applied finish that is available in a wide variety of colors to match your home and/or roof. The finish does not fade so it won't wear off or require maintenance unless you have to touch up scratched areas.
No rust or corrosion. Aluminum won't rust or corrode; it is truly a no-maintenance material.
Speedy installation. A skilled crew can usually complete a seamless gutter installation on an average-size house in a single day, as long as the fascia boards along the eaves are also in good condition.
Most affordable gutter option. Seamless aluminum gutters cost less than other types of gutters.
Want to have your home inspected to find out if aluminum gutters are right for your home? Call Bone Dry Roofing at 1-844-778-2185 or contact us online for a gutter installation estimate. We will also inspect your gutters as part of our roof inspection.
We provide quality roofing services to Greater Saint Louis residents. We specialize in solutions to meet all of your roofing needs, including roof repair and replacement in Chesterfield, Saint Louis, Saint Charles, Saint Peters, Florissant, O'Fallon, Belleville, Ballwin, Wentzville and surrounding areas.
Looking for a price? Get a no cost, no obligation free estimate.